Growing - Outdoor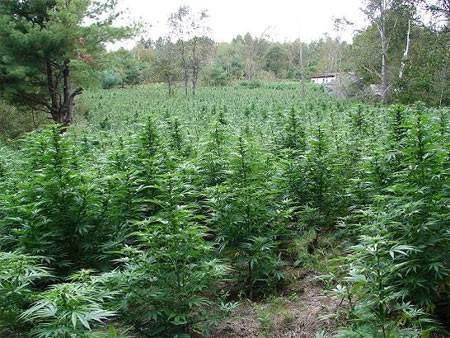 Growing marijuana outdoors can be quite the risk, but it can also be quite a reward. Below are listed the pros and cons of growing outdoor vs indoor:
Pros
Lower initial startup
Lower overall maintenance costs
Higher per plant yields
Working outside in an open environment
Cons
Security risks
Fewer crops on an annual basis
Environmental risks to plants; wind, rain, hail, etc.
Lower market prices
Climate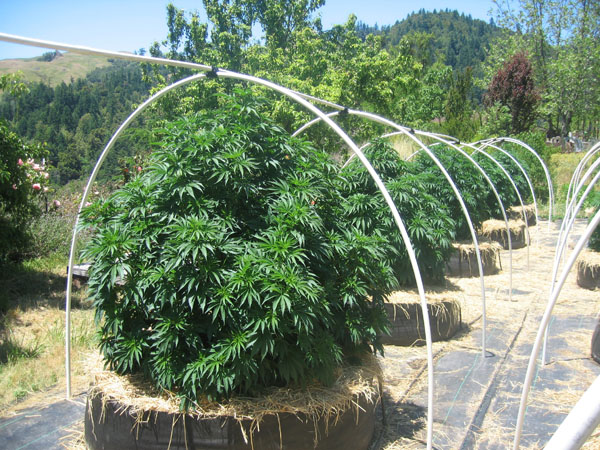 Climate is the first thing to consider and what environmental factors your crop might be subjected to while growing cannabis outdoors. Will the crop be exposed to occasional winds or downpours? Are the skies normally overcast or will you see plenty of sunlight? Are the temperatures consistent or will the crop see fluctuations? Such questions need to be addressed, because one bad environmental event could wipe out an entire crop and thousands of dollars would be lost.
Now let's examine how temperature plays a role. Marijuana can grow in relatively cold temps, but not nearly as rapidly or as well as in ideal temperatures. Colder weather causes slower growth and freezing temps can shock or even kill the plants. Cooler temps also make the plants more susceptible to mold which in turn can ruin a crop. In addition, lower temps or large fluctuations can result in a reduction of photosynthesis and an over-purpling of leaves
Regarding heat, it won't kill marijuana plants, but temperatures that are too high will cause the plants to grow more slowly. Temperatures over 80° in the flowering stage will not only slow down bud growth, but can also reduce the smell and potency of the buds. Moreover, heat can induce other plant problems such as spider mites, white powdery mildew, root rot, nutrient burn, increased stretching, and wilting.
Humidity is another factor of climate to scrutinize. Temperature and relative humidity (RH) are closely related to each other and each has an important effect on the other. Humidity measures how much water is currently "being held" in the air. Relative humidity compares that amount to the maximum amount of water that can be held at that temperature. Plants can thrive at different relative humidities depending on the temperature of the air. Once the air becomes too saturated with water, it will tend to form dew or films of water over leaves, which leads to mold.
When it comes to climate, here are two key elements to contemplate:
If the air is hot and dry, plants will tend to have a slower, stretched growth cycle and higher water consumption can be expected.
If the air is too cool and humid, plants will grow slowly and will be prone to problems such as those mentioned above.
Strains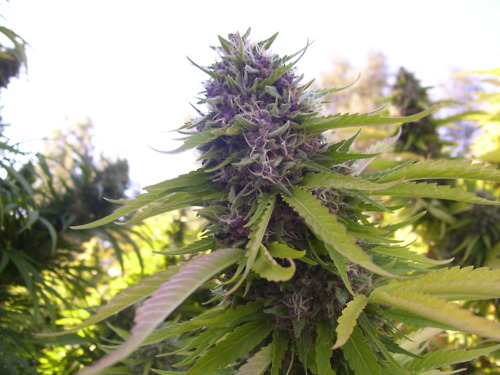 Climate will also influence which strain of cannabis will thrive in your area, thus, some strains are hardier than others. We recommend you give much thought to this detail. Whether you choose to grow indoors or outside, the universal goal remains the same: to grow big, fat juicy buds. The environment where you live will impact the strain you choose for your outdoor grow operation. Likewise, take into account where you live, i.e., the Northern or Southern hemisphere, and the ambient climate when deciding on the right marijuana strain.
Many new strains are bred specifically for outdoor growth, they are developed to undergo vigorous conditions in all climates, and the list below will provide you with a wide range of strains, depending on your needs.
Here are the "Top 10 Outdoor Strains" as provided by howtogrowmarijuana.com:
AK-47
Guerilla's Gusto
Northern Lights Auto-flowering
Northern Lights
Lowryder 2
Jack Herer
Holland's Hope
Blue Cheese
Bangi Haze
Afghan
The Sun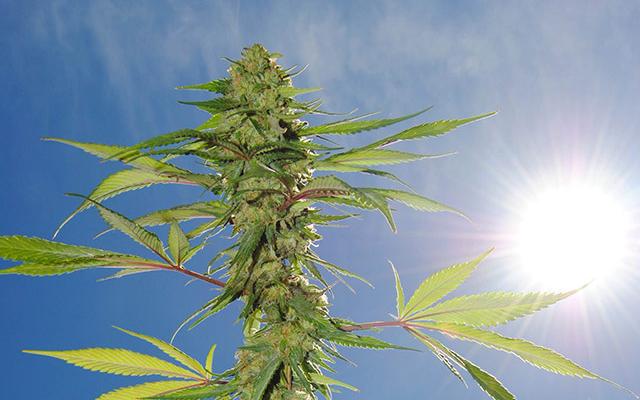 The sun is the most important and consistent element in every garden. Before planting your seeds or clones, you need to monitor this fundamental tool for measuring energy intake and time. It is the most important and consistent element in any kind of gardening. It will be equally important at the end of your plants' lives as it is in the beginning. Once Summer comes to a close, you should start to again keep track of the sun and the amount of light that it will provide your plants.
At the peak of Summer, plants will receive about 14 hours or more of sunlight. In the northern hemisphere, when August rolls into September the amount of sunlight decreases dramatically. For instance, within the month of September the loss of as much as hour and a half of sunlight per day can be expected. This difference will trigger your marijuana plants to change their energy focus to flowering instead of vegetation.
Keep in mind, the process of sex selection involves manipulating amounts of light in order to trick mature cannabis plants to begin flowering. This strong reaction in the plants is not accidental, all plants have the strong ability to distinguish day from night. Thus, when summer turns to fall and daylight decreases, the flowering process starts within days. Because of this sensitivity, marijuana plants can be manipulated fairly easily to induce budding on a schedule. They also have the same reaction to artificial lights, because of the similarity to natural sunlight.
Furthermore, this sensitivity is the reason why you should never plant cannabis in a location where it is exposed to street lights or any other artificial lighting. It requires properly dark nights, just as they would experience in nature during the Fall. This is why growing marijuana is easier in a place that has four distinct seasons. Once you become a grower, you will understand why fall is the favorite time of year for gardening. Most growers like to finish by mid-October or sooner, because daylight hours shorten and cooler temperatures set in.
In some cases, skilled marijuana gardeners are able to produce a double yield during a single season. One method used to accomplish this is the auto-flowering of marijuana seeds, because it will only take 10 weeks for them to grow from seed to harvest. There are also other specific methods that can be utilized to get a second harvest. A successful second harvest depends not only on how well these techniques are executed, but also the location. For example, in a climate further north, plants are more at risk of exposure to an early frost or dramatic seasonal changes. It is much easier in a more temperate zone to harvest more than once in a growing season where early fall is fairly mild.
For more details about growing outdoors, please read the following article at howtogrowmarijuana.com.
Planting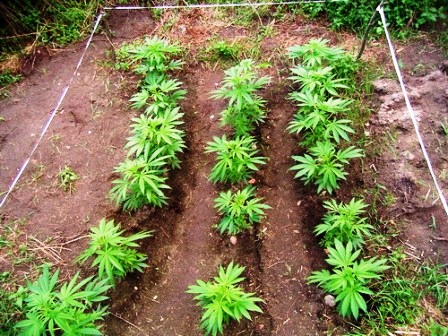 When it comes time to planting marijuana, the best time is early to late spring, depending on your location. During the Spring and the first half of Summer, the plants will grow tall. Once the summer solstice has passed, they will grow less and put more energy into flowering. Additionally, finding the right spot is important. As previously mentioned, it is a good idea to have your garden in a location where it will not be exposed to any sort of nighttime light. Marijuana plants also mix well with other leafy plants, a plus for keeping away unwanted eyes on the crop.
The plants will require at least 14-16 hours of daylight each day, and more light equals more buds. If you keep them in containers, it will help in the event that they need to be moved to maximize exposure to sunlight or removed from harsh elements. The drawback is that containers can restrict growth, while unrestricted growth yields larger plants. The general rule of thumb is the larger the root mass, the higher the yield.
Care and Maintenance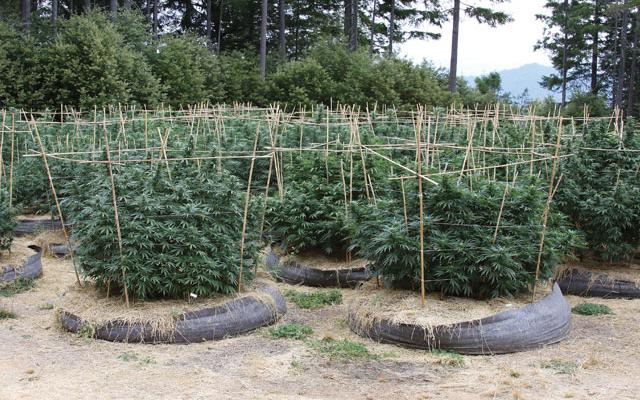 What are the most important factors in the care and maintenance of your outdoor crop? They include the need to effectively stake, prune, provide preventative pest control and protection from the elements.
Because outdoor gardens produce much larger plants, effectively staking them is essential to their health. Stakes and wires will not only help the stalks support the weight of the upper branches, but they also serve to protect the plant from strong winds.
While the marijuana plant is still relatively small, it is a good idea to prune the lower branches as they do not contribute much when it comes time to flower. Pruning will allow the plant to focus on the higher and more productive branches. This will increase the growth, and therefore, the yield towards the end of the plant's life cycle.
As the marijuana plant ages, the upper leaves fill out and form a canopy above the lower parts of the plant. Unfortunately, those lower leaves will likely all die as a result of not getting enough light. 'Gutting the plant out' is a phrase often used by cannabis growers who snip off the lower leaves even before they start to turn yellow, thus benefitting the upper leaves. Also keep in mind, these larger outdoor plants require much more water than indoor ones, and this is a key difference between growing indoors vs. outdoors.
When it comes to outdoor marijuana grows, the biggest concerning pests are spider mites, slugs, snails, rodents, deer, and elk. Now Mother Nature does a fairly good job of providing the natural controls for some of these pests such as ladybugs for spider mites and mice, squirrels, and toads for slugs and snails, but other pests such as small rodents, deer, and elk will require more active controls like vibrating devices.
Another factor that needs to be considered is the exposure to the elements. Mother Nature will not always be kind, and it is a good idea to be prepared for the unexpected. You know the old Murphy's Law, "whatever can go wrong, will go wrong," so you might as well be ready.
Let's take heavy rains for example. Here are some concerns and remedies most growers have regarding heavy rains:
Many strains are mold-resistant, but quite a few are susceptible to mold. Do some homework and learn about the strain you choose.
Gray mold is the biggest problem, but for the spores to take hold, there must be a few days of rain in conjunction with a humid atmosphere. If there is a heavy downpour followed by bright skies and the plants dry out, then there is little chance of this happening.
Keep an eye on the weather forecast in the last 2-3 weeks of flowering, especially if there is cola formation and the buds are tight. If heavy rain is in the forecast, then find some large see-thru plastic sacks to cover them. Even if they don't protect the plants at least the main colas will stay relatively dry. DO NOT cover wet plants! As soon as the rain passes, put a high priority on removing the sacks.
Trichomes washing off? This is not necessarily a problem. There would have to be a week of heavy rain as well as other problems with your plants. Yes, rain will dislodge some trichomes but not enough to be alarming.
All the above is under the assumption that you are growing outside in soil. If the plants are in pots or bags and can be moved to a protected area in case of storms, then get it done!
Finally, if the weather turns bad near harvest time watch the plants carefully. Most of the time mold can be seen when it begins to grow, however, sometimes it starts inside of the bud. Once you have detected mold, grab a cutting device and go to work on the infected bud to eliminate it. Start by trimming away the mold with a plastic bag surrounding the cola/branch so that additional spores are not introduced into the air, and on to other unaffected growth.
Harvesting
Much anticipation for harvest time builds up throughout the growing season. Your plants have been kept happy, healthy, and secure during the whole cycle, and now it's time to enjoy a high yield! Just like with any other step in the process of growing marijuana, there are a few tricks to a successful harvest. Watch for very specific signs as some potential mistakes that can be costly. After getting through a full season of growing, it would be very disappointing to lose everything due to a silly mistake.
The first most important consideration is choosing the right time to harvest. This requires careful monitoring of both the weather and the plants. Practice patience and don't harvest too early for this can reduce the potency as well as the yield, and waiting too long can have the same effect as well.
As soon as marijuana plants have entered the flowering phase, it is a good idea to start paying attention to the sun's timing and strength as it correlates with the seasonal changes. You can use this as a means of understanding when the best time to harvest will be, and you should also look at the plant itself for signs of readiness. Diligently observe the weather forecast too, as the harvest day conditions are also crucial. Please refer to our page on Harvesting for more detailed information.
If your grow is in a remote location, it is critical that you take additional measures to ensure security. During the vegetative state there is not much monetary value to the grow. It is a good idea to keep a closer eye on the crop from week 4 to 10, because once the plants start producing buds, their value goes up considerably and unwanted nearby eyes may be watching with you. Don't let the excitement of the harvest result in making bad choices regarding personal security. This is perhaps the most important time for ensuring safety, since the plants are ready to go! Therefore, extra caution needs to be taken in the days leading up to the harvest as well as on the day itself.
Until harvest time, security is mainly a matter of diverting unwanted attention away from the marijuana garden. All of this changes as the flowering period ebbs, because now focus turns to the actual yield. In this situation, cannabis growers have been known to resort to some very elaborate and even over-the- top means to protect their buds from prying eyes. It is a good idea to hire professional security to ensure the harvest doesn't go anywhere until it has been harvested. We here at Cannafo recommend taking every possible measure to ensure the security of the harvest. If your funds are tight and your budget nearly spent, consider borrowing an RV with lights and a timer at minimum.
While some growers will sleep near their "babies" for the days leading up to the harvest, others will set up trip wire that rings a bell if anyone approaches. If the grow is close to home, a dog that barks a lot may be kept outside all night. Some gardeners simply keep watch like a hawk on all known entrance routes. During this time, growers become irritable, cranky, and extra paranoid, but with a year's supply of cannabis at stake, who can really blame them?!
It is also important to remember that all of the other security concerns still apply and the same level of care, if not more, should be taken. It is not unusual for marijuana plants to be staked out by potential thieves who are waiting for them to grow big buds, so they can reap the benefits of your care and your effort.
Lastly, it is a good idea to harvest on a beautiful fall day with clear skies, before the first frost takes place. Harvesting in the rain wouldn't be the end of the world, but moisture will increase the drying time slightly, however, it will have no effect on the buds nor resin glands. Stay alert until the harvest has been hung to cure. Once this has been accomplished, there will be very little to worry about.
Diagnose a problem with your plant, type a symptom below:
You may also like to learn about