Ellementa Alameda/Oakland: Cannabis for Women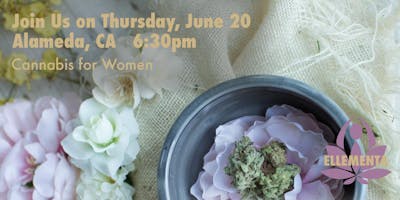 Let's Talk About: Why Cannabis Works for Women: Cannabinoids This month, we're talking about cannabinoids in cannabis! ~ What are cannabinoids, and how do they affect how you feel? ~ How does THC differ from CBD and what about CBG, CBN, THCv and the rest? ~ What are the high quality products that contain the cannabinoids you want? If you are looking to understand how cannabis interacts with your body and brain and want to improve your health and wellness or simply feel better, this Gathering is for YOU. Learn from our local Ellementa Leaders, Guest Experts and Trusted Brands at Ellementa Women's Wellness Gatherings. Our female-forward events are warm, comfortable and welcoming to women/female-identified who are new to cannabis as well as the more experienced.  Share knowledge. Take charge of your health. Get inspired. And bring a girlfriend! We look forward to seeing you! #FeelBetter ABOUT ELLEMENTA: If you've never been to an Ellementa Gathering before, you may not know how our Gatherings are very different from other cannabis events out there. This is not a lecture, this is not a business networking event. This is a vibrant, exciting, dynamic and personal sharing of wisdom and experiences. Ellementa organizes Gatherings in over 50 cities connecting women to cannabis experts and brands. Learn about cannabis for health, wellness, self-care, and caregiving. These are non-consumption, educational monthly events for women/female-identified exclusively. We create welcoming spaces where women can come together to speak openly about cannabis wellness. At each monthly Ellementa Gathering, we'll explore different aspects of cannabis to empower you with knowledge. If we don't know the answers, we'll find them!    JOIN OUR INTERNATIONAL COMMUNITY OF WOMEN! GUEST EXPERTS… YOUR LOCAL LEADER… This Gathering discussion will be led by, Ellementa Gathering Leader Kat Clifford Geluz Kat Clifford Geluz is a healthcare professional who has spent her career as a social worker and therapist helping people feel better. She has a Master's Degree and years of experience working in the cannabis industry where she has learned how to use specific cannabinoids such as CBD to treat conditions like anxiety, depression and pain. She started the first support group for patients using medical cannabis in the South Bay and has been the lead wellness consultant for Octavia Wellness in San Francisco. She now owns and operates her own business where she works with people who are new to cannabis and need personal and professional guidance. Kat became interested in medicinal marijuana after it helped her with her severe daily headaches. She now manages them with cannabis and yoga and is thankful to Ellementa to help spread the word about the power of the plant! GIVEAWAY! Win a signed copy of the new book Cannabis and CBD for Health & Wellness: An Essential Guide for Using Nature's Medicine to Relieve Stress, Anxiety, Chronic Pain, Inflammation, and More (Ten Speed, June 2019). One lucky winner will be selected by random drawing! Must be present to win. DISCLAIMER: Ellementa Gatherings are non-consumption events. Ellementa does not condone the consumption of cannabis on the premises of Gatherings. If consumption does take place at the event or any product is obtained at the event that is consumed after, attendees consume at their own risk and fully indemnify Ellementa, Inc. and its stakeholders from any responsibility. Everyone attending this event or other Ellementa events confirm they are 21 years of age or over and fully responsible for their own actions.
Event Details
Start:
1:30 AM on June 21, 2019
Location
Leela Yoga
1708 Lincoln Ave.
Alameda, CA
Share